Sastria Hotel is located in Sungai Petani, Kedah. Our hotel becomes a  preferred accommodation for both loyal and new customers. It is our pleasure to surround you with all cares, comforts and conveniences. Stay here to feel the difference with low budget.
Sastria Hotel offers 9 types of rooms including seminar rooms. Our prices start as low as MYR60.00 to MYR350.00 . Our bed choices suitable for single person , couple, triples or family's . We also have a single bed, queen bed, two single beds, three single beds, one single bed with one queen bed and two queen beds in one room.
Sastria Hotel also provides a massage chair outside the hotel and a newspaper in the hotel lobby for customer reading. For customers who want to do laundry, close with hotel have a 24 hour self-service laundry.
SINGLE ROOM (RM60.00)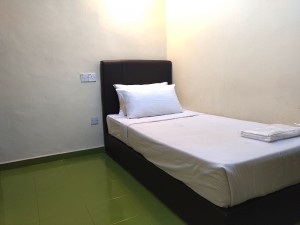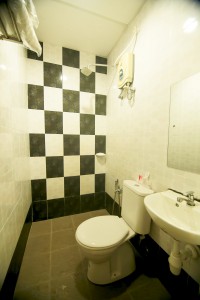 SINGLE ROOM
1 Single Bed ( 1 Person )
RM60.00

Room Facilities: 
Aircond
Small Table
Tiled/Marble Floor ,
Bathroom (Toilet/Hot Shower)
LCD TV
Astro
In-Room High UNIFI Speed
No View ( Non Smoking Room )
STANDARD QUEEN (RM75.00)
STANDARD QUEEN
1 Queen Bed ( Max 2 Person )
RM75.00

Room Facilities: 
Aircond
Table & Chair
Tiled/Marble Floor ,
Bathroom (Toilet/Hot Shower)
LCD TV
Astro
In-Room High UNIFI Speed
No View ( Non Smoking Room )
DELUXE QUEEN (RM80.00)
DELUXE QUEEN
1 Queen Bed ( Max 2 Person )
RM80.00

Room Facilities: 
Aircond
Table & Chair
Tiled/Marble Floor ,
Bathroom (Toilet/Hot Shower)
LCD TV
Astro
In-Room High UNIFI Speed
View ( Smoking Room)
SUPERIOR QUEEN (RM90.00)
SUPERIOR QUEEN
1 Queen Bed ( 2 Person )
** Connecting Room With Deluxe Twin ( For 2 Rooms and Above Only )
RM90.00

Room Facilities: 
Aircond
Table & Chair
Tiled/Marble Floor ,
Bathroom (Toilet/Hot Shower)
LCD TV
Astro
In-Room High UNIFI Speed
View (Smoking Room)
DELUXE TWIN (RM90.00)
DELUXE TWIN
2 Single Bed   ( 2 Person )
** Connecting Room With Superior Queen ( For 2 Rooms and Above Only )
RM90.00

Room Facilities: 
Aircond
Table & Chair
Tiled/Marble Floor ,
Bathroom (Toilet/Hot Shower)
LCD TV
Astro
In-Room High UNIFI Speed
View (Smoking Room)
SUITE TRIPLE SMALL (RM110.00)
SUITE TRIPLE SMALL
1 Queen Bed + 1 Single Bed ( 3 Person )
RM110.00

Room Facilities: 
Aircond
Cabinet Desk
Tiled/Marble Floor ,
Bathroom (Toilet/Hot Shower)
LCD TV
Astro
In-Room High UNIFI Speed
No View (Non Smoking Room)
SUITE TRIPLE PREMIUM (RM120.00)
DELUXE PREMIER ROOM
1 Queen Bed + 1 Single Bed ( 3 Person )
RM120.00

Room Facilities: 
Aircond
Cabinet Desk
Tiled/Marble Floor ,
Bathroom (Toilet/Hot Shower)
LCD TV
Astro
In-Room High UNIFI Speed
View ( Smoking Room)
SUITE FAMILY (RM130.00)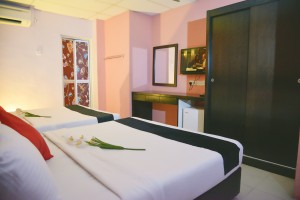 SUITE FAMILY
2 Queen Bed ( 4 Person )
Aircond
Closet Cabinet & Chair
Tiled/Marble Floor ,
Bathroom ( Toilet/Hot Shower/Bathtub )
LCD TV
Astro
Mini Fridge
In-Room High UNIFI Speed
No View ( Non Smoking Room )
SEMINAR HALL (RM350.00)

Daily Package ( RM350.00)
Quantity : 1 unit
Number of loads : 70 pax
Time of use : 7.00 am – 6.00 pm
 Banquet Table & Chair
 White Board
 Stand Board
 White LCD
 Microphone
 Sound System
 Power point
 Projector
Toilet
 Surau
 Aircond
 Internet Unifi
 Carpet Floor
Hour Package (60.00 Per Hour)
Quantity : 1 unit
Number of loads : 70 pax
Time of use : 7.00 am – 6.00 pm  ( Minimum 3 Hour = RM180.00 )
Equipment : 
 Banquet Table & Chair
 White Board
 Stand Board
 White LCD
 Microphone
 Sound System
 Power point
 Projector (RM50.00 Extra Charge for projector rent)
Convenience :
Toilet

 Surau
 Aircond
 Internet Unifi
 Carpet Floor
Additional Note
Not Available for Night Use